Microsoft Working on Two Windows 10 Features Named Timeline and Sets
November 30, 2017
08:52 AM
In an email sent to all Windows Insiders Program (WIP) participants, Terry Myerson, Executive Vice President of the Windows and Devices Group, gave a preview of two new features Microsoft will be testing in the next iteration of the Insiders Program (Windows 10 Redstone 4).
Known as Timeline and Sets, these two features bring major changes to the Windows interface and how users interact with the OS and their files.
Windows Timeline
The first of the two, Windows Timeline, is a modification of the Windows Task View, a feature introduced with Windows 10.
Microsoft introduced Task View as an alternative to the classic ALT+TAB interface, as a better view for opened windows. Windows Timeline expands Task View on a vertical timeline, showing both current and past windows.
In theory, this should allow users to quickly go back and open a file, site, or application they interacted in the past. Details are scant, but Myerson did share a low-resolution screenshot of what users can expect to see.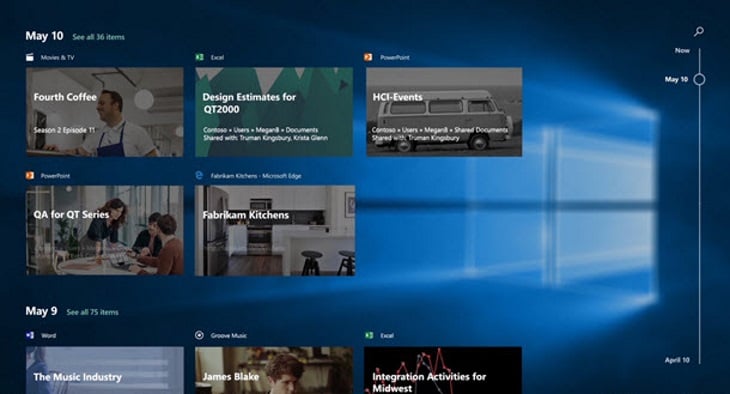 Windows Sets
The second feature is just as intriguing as the first. Called Sets, this feature expands the concept of an app's "window" with the addition of tabs, a UI concept found in modern browsers.
Adding tabs to Windows Explorer has been the #1 most requested Windows feature in the past years.
Nonetheless, from the video Myerson published online, Sets is not the tabbed interface users have been requesting, but more of a centralization of all Windows-related apps and services under one window, with tabs capable of opening Edge, Office apps, OneNote, and other Microsoft-made apps.
It is unclear if Sets will allow other apps access to the "shared window space" Microsoft is creating, but common sense dictates that UWP-compatible apps will be likely to support it.
Myerson said both features would roll out to WIP users "in the coming weeks," and that not all WIP users will get it, as Microsoft wants to compare how users who get and those who don't get the features interact with Windows.